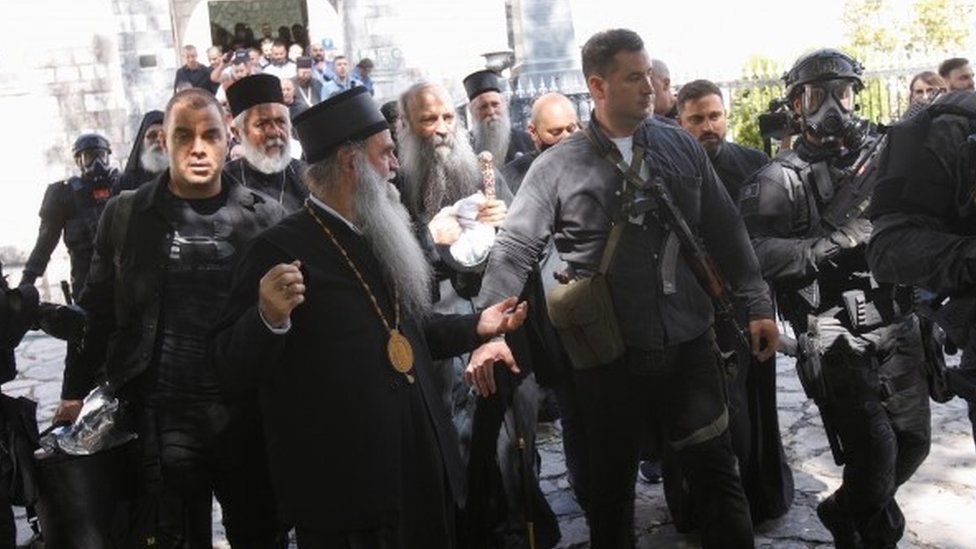 A few remarks about the recent strife in Montenegro, another turn around in the shambles that is Orthodox – civil political relations. We've had the un-Christian situation in Macedonia for years, the barbarous schism in Ukraine, and now another blow of balkanization. In each of these cases we should remember that the causes behind them are mostly secular: Greek, Ukrainian nationalists, Pro-European, Socialist… If you've lived in a foreign country for any length of time, you learn that you don't understand its political realia. Don't send money to PACs for out-of-state elections and don't voice strong opinions about the Balkans.
Don't forget that the word 'saeculum' means 'the world of this time'. It is temporal power. The power that is in the Church – Body of God – is inside and out of time. All this shall pass.
As it passes, it crushes souls.
Members of the socialist party set up massive protests and tire barricades to block access to the ancient Cetinje Monastery to prevent the enthronement of the Macedonian Orthodox Metropolitan under the Serbian Patriarch. The candidate was flown in to the monastery by helicopter where he sprinted into the church for the liturgy. He was then whisked up and away.
Note that in Ukraine ultra-nationalist parties supported the schism with Moscow, here it is pro-European socialists. Note that in either case the West is opposed to Orthodoxy. It's a well-established tradition. However, again, local politics is at the root. Scandalously, the socialist president himself, Milo Djukanovic, incited the protests, according to the BBC.
At the root is the notion that a nationalist polity should be an expression of ethnic identity and that a national identity needs a national church. This foment is the deepest problem facing Orthodoxy, and it is thoroughly pagan, un-Christian. To wit, four problems as I see them:
1) Eastern Europeans tend to identify en masse their ethnicity and their religion. This extends from Roman Catholic Poles to South Ossetians. This is directly against the teachings of the Bible and Orthodox tradition, it is tribalism; however it has helped preserve Christianity though many non-Christian saecula. 
2) Ottoman dhimmitude institutionalized the ethno-religious brew and bled into 19th century nationalism. This creates political structures that support the worst of 1, sometimes even in disingenuously opposing it, as St. John of Shanghai pointed out. Those who would like to have power and territory over their alienated flocks hold it in their fists and support the dhimmitude in their own territories, those who see the weakness of their overlords try to break away.
3) Globalization makes international relations ones between large units. Patriarchs and popes are important for the secular influence of religious figures (which can be legitimate). No patriot wants someone else's patriarch. The Orthodox Church structure, in contrast, was built upon cities and individual bishops as the best figures to represent a polity. The Chestertonian view that we adopt supports this traditional approach; but mass media and international relations do not recognize it.
4) We see all politics in the current, technocratic mode as serving ideals and not as saeculo – temporary. All civil society is a collection of 'government services' and all polity is identity politics, which is everything. This holds for the right no less than for the left. As Oliver O'Donovan richly says: "… civil religion wears the form of the Antichrist, drawing the faith and the obedience of the Lord's Anointed away to the political orders which which should have only provisional authority under him" (Desire of the Nations, 224). Or, as Emanuel Levinas put it: "There is nothing more frightening than an army of Mother Theresas." Readers of our blog should get a sense of what I mean.
Let's take an example of globalized Orthodox politics. There are many. I know for a fact that the United States government, through Sam Brownback's "Office of International Religious Freedom" actively supported the schism in Ukraine. And our government supported the suppression of Kosovo Serbs. And our policies in the Middle East have indirectly led to the decimation of Christianity there for the last 70 years, especially the last 20 years. But I don't believe the US has a concerted anti-Orthodox policy, despite the evidence. Rather, there are efforts to effect a balance of power in the favor of the US and its allies. The situation in the Balkans was set out of balance by the weakness of Greece and the influence of Saudi lobbying on American policy regarding Albanians. Was there a concerted Orthodox push-back in the United States to influence these policies? No, because of Balkanization, because of 1 and 2. No one is more to blame for our situation than we ourselves.
In an ideal world, we would rely on the kerygma of bishops teaching real Christianity and Byzantine symphony at the local level. Patriarchs would be trans-national figures (based on liturgics and language) who could put the face of Orthodoxy on against the saeculum – prayer breakfasts and speeches against poor treatment of prisoners or migrants, supporting anti-abortion legislation, etc.
What we have instead is 19th century nationalism enforced by 21st century social media-fueled mass hysteria. It keeps us in North-Atlantic dhimmitude – choleric, bitter-tongued, fond of conspiracies that nullify our agency, forgetting that our secular motivations should center around civil peace.
Part of the problem is that we do not have a good theological answer to many problems of the saeculum. Wherever you turn in non-Orthodox theology you see faults – the institutional excesses of Roman Catholicism, the brutal justification theology and normativism of Protestants. But when you turn to our theology you see few answers at all, and not even many questions raised.
One of the greatest gifts of Orthodoxy was a universal recognition of human rights in the union of Christian ethics, the divine image of the soul, and the civil traditions of Roman law. Our democracy has roots in the election of bishops and our fundamental motivation is toward the perfection of that divine image in every individual. Every Montenegrin, South Ossetian, Macedonian, Scotch-Irish Arizonan Patriarch is going to do no more than discourage civil peace, crush more souls, and distract us from our great commission.